The Difference Between SEO and SEM
Search engine optimisation (SEO) and Search Engine Marketing (SEM) are two very different (yet equally important) methods of attracting visitors to your websites from the Search Engines.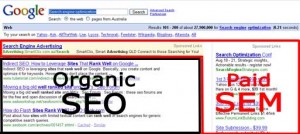 Search Engine Marketing (commonly called Pay Per Click Advertising) provides you with instant traffic to your website, where you bid for your choice of keywords. When you search for a keyword these listings and are displayed above and/or to the right hand side of your search result. Every time someone clicks on these links, the business placing these ads is charged a fee for that click.
Search Engine Optimisation is shown on the left hand side and is an earned listing which is achieved through a series of technical changes and processes made to the site.
There are several key differences between SEO and SEM
When using SEM you pay for each click and can bid for a top listing.
SEM usually places you in a top position instantly (based on your budget limitations).
SEM can be targeted to specific geographic areas ranging from Suburbs, Cities, States, National or Worldwide, whereas SEO covers a specific country or state.
SEO takes longer (usually up to 3 months before you'll see a result) yet these listings are more permanent.
Organic (SEO) searches usually attract more visitors than Paid SEM.
Because SEO is earned, the credibility of your site is increased proving a higher conversion of your product and/or service.
SEO in the long term is a lesser investment and if maintained can assist in a steady stream of leads and customers.
When used in combination, SEO and SEM are powerful and effective tools in achieving online success. By using both strategies to grow your business online you will tap into the highest traffic volumes of people looking for products and services exactly like yours on the Internet. Be warned though, this strategy is only for businesses who are serious about keeping up or getting ahead of their competition online.