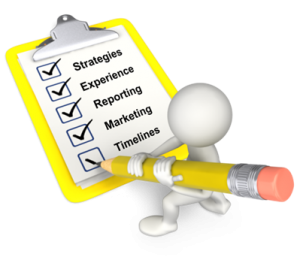 Finding a Good SEO Company for Your Website
So you have a company website and you are looking for SEO… because you've heard about it and you heard that it's important and stuff. The fact that you are looking for an SEO service could mean you have little idea of how it's done or how it works. Or perhaps you simply do not have the time to handle this rather time-consuming task. Another case: you've hired an SEO person before, and it didn't do well, so now you have to save your site.
If you have little idea about SEO, then it could be troublesome looking around. It's like hiring someone but you don't know the qualifications to look for. All you know is that the SEO company has to make you do well on Google and other search engines.
What You Need to Know
Many people think of SEO as "making a website rank high on search engines." Whilst there is an element of ranking involved, in the last few years it has really evolved to become more about traffic and engagement. This is where it can start to become confusing especially with many SEO services varying in the services they offer. So how do you hire someone and what should you be looking for?
First, getting ranking in the search engines doesn't simply happen as a result of waving a magic wand. You can't say, "In a month or two, I want my website to be at the top of Google search result" and expect it to magically happen. SEO is a combination of specific consistent, continuous activities designed to show the search engines that your site is good enough to appear in their pages.
Think of hiring an SEO as consulting work. An SEO specialist is there to help you improve your sites overall image and to identify elements for improvement. When working with a consultant they should first of all identify potential improvements for your website.
These areas may include:
The site's design and structure
The use of content on your site
How the search engines see your website
How visitors are engaged by your website
SEO is not about getting spikes in site visits; it has more to do with giving your readers, customers and potential customers the right web experience. The better your site improves in this aspect, the better you will do in search. And good SEO can help you achieve this.
Before searching for an SEO company, it would do you good to research a little about search engine optimisation so you will know what to look for.
As you can see by this video from Matt Cutts, Google actually wants to work with SEO companies.
Do You Need to Hire an SEO Expert, Really?
If you are not a technical guy, then yes, you'll need to hire an SEO expert. You might not know if there are errors on your site, if your hosting is secure, if there are broken links or redirects, if the site is loading too slow or if it is being crawled by the search engines in the first place.
Another important element of SEO is how others connect (or link) to your website. With the growth of Google the number of people trying to find a 'Quick Fix' has also increased causing a lot of negative techniques that have caused many sites to be penalised.
More than ever, it's critical to ensure any SEO company is focussed on a 'Clean Online Footprint'. A good SEO company will have specific strategies that will target this.
It is possible to learn these things, just like anyone can learn plumbing, but it would take a lot of work, experimentation which may not end well, especially if you are inexperienced.
Beware of the Bad Guys
The trouble with finding an SEO expert is that the industry is filled with guys that cut corners promising amazing results. Beware of amazing promises of amazing results done in lightning speed that are too cheap. Treat it just like a financial investment. The adage "If the promise is too good to be true, then it probably is" applies here. If you are promised #1 ranking in Google search, that you be a warning sign to you.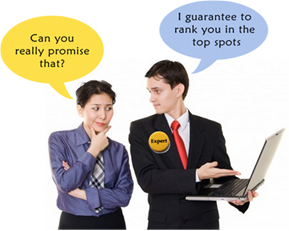 As time goes on and the search engines get smarter, old school techniques do not work as effectively as they used to. If you use an SEO company that is using the same 'short cut' methodology as 2 years ago then there's a good chance you'll get your site penalised and might even be taken out of Google's index.
SEO old trick – keyword stuffing doesn't work anymore
Google Makes the Rules
One thing that makes Google successful online is the ethics they try to inject into the industry, making them more trustworthy. For quite some time, it has been a battle between Google and the corner cutting SEO's, with Google policing the SEOs and the SEOs always seeking to trick the search engine.
A good SEO for your website will abide by search engine's rules and not go around them for the easy win. Google is constantly improving its algorithm to improve search results so your SEO company of choice should always be updated with such changes.
Where to Look
Google an SEO company and see how they rank. If they are any good then they should appear in good positions within their own serviceable area. For example, you may want a company within your area so you can easily contact them.
You want a business that you can call or email and expect a timely response during your business hours.
Another good way to look is through your network. Find good recommendations from people who have hired an SEO in the past. If you are in business-oriented social networks like LinkedIn, you can ask for recommendations from your contacts. Make a shortlist of the SEO companies you're interested in and start investigating.
Questions to Ask
It would be good if you can do a bit of research on SEO before hiring someone. That way, you will have a background about the kind of service you wish to hire.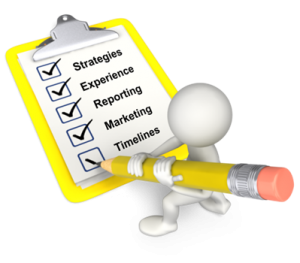 Here are some of the important things you can ask your shortlisted SEO candidates:
What are their strategies for SEO?
What is their experience with businesses like the one you are running? Ask which companies they have worked with.
How will they be reporting to you for you to know how your site is doing?
What are their marketing techniques that can help your business grow?
Ask for a timeline of tasks
Ask Their Clients
One good way to assess how good the SEO Company is by asking their clients and looking for real video testimonials. Are their clients happy with their service?
What is the average time frame they have worked with their clients?
What sort of results have they achieved? It should be about more then simply getting a site ranked. What other areas have they helped clients with?
In reality they may not be able to make everyone happy, but they should have a good list of happy clients.
Choose Wisely
Don't go with an SEO specialist simply because of their low price.
In many instances a cheap SEO company should wave in front of your face like a red flag! There are many scammers around and you could become a victim if you are not careful.
It's easier to get a site ranked the right way than it is to fix a site that has been heavily penalised due to corner cutting SEO.
Make sure you do your research and ask the questions listed above. This will be the difference between establishing a solid long term online presence and potentially getting banned.
http://www.onlinespecialists.com.au/wp-content/uploads/2013/02/checklist-300x2631.png
263
300
Karen Coloso
http://www.onlinespecialists.com.au/wp-content/uploads/2019/03/Online-Specialists-Logo-and-Ph-Number-new.png
Karen Coloso
2013-02-26 04:45:39
2014-07-24 08:26:38
Finding a Good SEO Company for Your Website