MarketingSherpa have just released their 2012 Search Marketing – SEO Edition report, outlining past and future trends in SEO.
As a teaser to the report, they have also released an excerpt, highlighting several key SEO findings within over 1500 organisations.
Main reasons people Engage in SEO
The top reason people are investing in SEO is to increase traffic, which in a way is what you would consider to be the most important element of a website. In reality the most important reason to engage an SEO firm is to increase the leads and conversions through your website.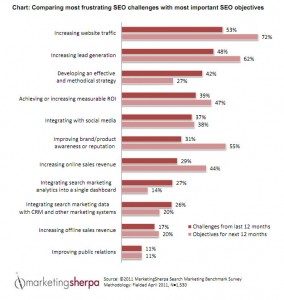 Even if your site is only attracting a few 100 visitors per month, if your campaign is highly targeted within your industry and you're getting business through your website, then I would call that a success.
We recently started SEO'ing a site that attracts over 50,000 visitors a month, but the conversion to lead or customer was very low. By implementing a few on-page conversion strategies, we are slowly converting their traffic to leads to customers.
SEO Tactics to Rank

If you are new to SEO or you are considering DIY SEO this will give you an insight and may help you to understand why you should outsource this service. The graph below indicates the SEO methods in use and the level of difficulty through the use of each technique.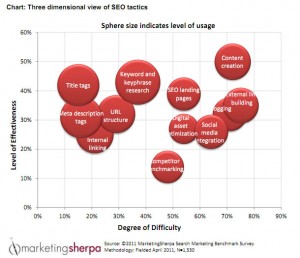 Keyword research is the second most commonly used tactic and rightfully so. Your keyword research will determine the success of your overall strategy.
A point of interest is that content creation is the most commonly used strategy and considered to be the most difficult strategy. This really does hit home that 'content is king', especially in light of the recent Google Panda updates.
SEO growth over the next 12 months
The following graph is broken down into 3 different sections; Trial, Transition and Strategic. It shows the level of investment expected in SEO over the next 12 months. Businesses within the Trial phase using SEO are generally run in-house, spending money on wages and staff salaries, with Transition and Strategic outsourcing either all or components of their SEO.
Further more, Transition and Strategic companies are continuing to increase their SEO budget, understanding the solid Return On Investment (ROI) in relation to dollars spent.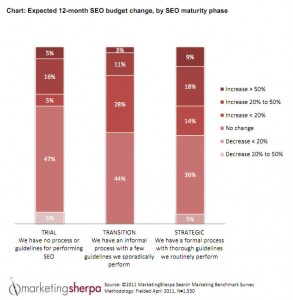 This also rings true with a number of our clients either previously performing the SEO tasks themselves or assigning the task to one of the members of their staff. Due to the nature of SEO, many of these tasks can be performed on a larger scale and with more consistency at a lower dollar investment.
ROI for SEO – Do the Maths

Really think about this last point and do the maths. Consider assigning an admin person with 10 hours a week of consistently performing SEO tasks (article writing, link building etc). If you are paying this person $45,000 per annum based on a  40 hour week, then you're essentially investing just under $12,000 a year on SEO.
For a similar (or lower in many cases) level of investment you're able to outsource this service, and have a dedicated team of people working on the strategic direction of your site working close to double that amount. They are also specialised in the art of SEO and have their finger on the pulse of all current and future trends. Hmmm… A No brainer?
As you would expect, a large number of our long term clients sit within the Strategic section and are constantly looking at increasing their ROI through other mediums like email marketing campaigns and social media.
SEO and the Wild West
This report shows that SEO is still in it's infancy, with a lot of opportunity and growth available for many small to large business. It's still the 'wild west' online and this report shows SEO'ers are taking positive steps towards standardisation.
The investment for the report is $397 for the .pdf version and is a good read for anyone that has an interest in SEO trends.
To download the report for a $100 discount, download the excerpt and fill out the form on the last page. You can download the excerpt from here – https://www.marketingsherpa.com/article.php?ident=31953#
http://www.onlinespecialists.com.au/wp-content/uploads/2011/08/Why-You-SEO-284x3001.jpg
300
284
Eva Judge
http://www.onlinespecialists.com.au/wp-content/uploads/2019/03/Online-Specialists-Logo-and-Ph-Number-new.png
Eva Judge
2011-08-10 00:16:58
2014-07-01 07:55:30
SEO Techniques and Trends